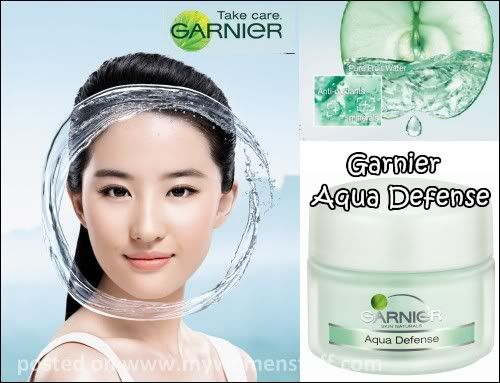 New from Garnier comes Garnier Aqua Defense – a new line of skincare by Garnier that promises to lock in your skin's moisture while boosting your skin's defenses. How better to sell it than to enlist the crystal clear beauty of up and coming Chinese actress Crystal Liu Yi Fei.
Garnier Aqua Defense contains fruit waters and Vitamin E to protect and defend skin from external aggressions and free radicals so your skin is left supple and hydrated all day.
The whole Garnier Aqua Defense line comes in light green packaging and everything smells faintly of fruits and green apples. Its really very refreshing as I discovered recently during the press launch at Khareyana Spa.
This Garnier lineup has been available in Singapore for a while now but we're finally getting it in Malaysia in July 2009 🙂