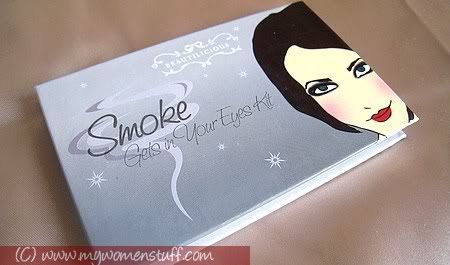 Beautilicious calls their Smokey Eye palette - Smoke Gets in Your Eyes. Hands up anyone who can sing the song… or at least that one line! LOL… Cheesey songs aside, I must say that this smokey eye palette is very commendable.
Like the Stila Smokey Eye Palette, this one too comes with instructions. The difference is that where Stila's talks to you, the Beautilicious one lets you read the instructions yourself (but Stila has paper instructions too). Other than that, there isn't much else that's different!
Packaging
The Beautilicious Smokey Eye palette comes in a cardboard palette with 1 concealer, 1 beige shadow, 1 grey shadow and 1 black shadow and a sponge-brush applicator. The palette is slim and compact and resembles Benefit's Big Beautiful Eyes palette. I like the slimness of the palette and the large mirror on the inside, although I'm not too enamoured with the picture on it. I'd rather see graphics than images, but that's me. Also, I'd rather it did not come in a cardboard sleeve because that's redundant packaging since the palette is shrink-wrapped anyway.
Performance
The concealer in the palette comes in just one shade. I honestly thought it might be too dark for me, but to my surprise, it was not. I reckon it will suit those with fair to medium skintones but if you have very tanned or dark skin, it will not be for you. The concealer is also surprisingly really nice for something that comes in a palette and something I was not expecting to rave about. The texture is smooth and creamy it covers dark circles decently and best of all, isn't oily and does not settle into fine lines! Continue Reading ►