I'm not that huge a fan of Coach but I do like some of their older leather collections. They were more affordable and the leather was super soft and supple and the designs were useable. I bought mine off ebay (don't try it unless you are 100% confident of the seller) way before Coach came into Malaysia.
However, I've realised that the recent Coach collections have stopped grabbing my interest and the newest Coach Op Art collection is grabbing my attention but in a whole different way.
In the new Coach Op Art collection, the iconic Coach C logo has lost its serifs and now look like broken circles all over the bag. Personally I've never been one for the Coach logo bags, but this looks odd for some reason. It looks like something went wrong.
And when I saw other related items in the Graphic Op Art design, I was even more amazed that they even thought to put it on anything other than a bag!

I'm afraid the new Op Art design and colours do nothing for me. It somehow reminds me of a sombre LeSportsac collection which is not what I associate with Coach at all.
However, I do rather like the shape of the new Coach Julianne bag (US$428). The shape looks roomy and practical although I'm not sure how practical the sateen body is. Still, the bag itself its a nice shape – pity about the print!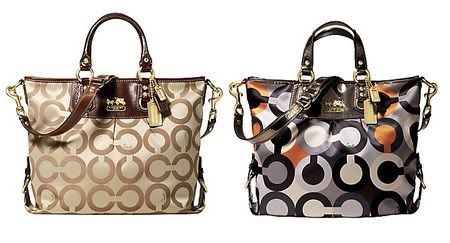 The Op Art Collection is already available at the Coach stores here in Malaysia. I stopped by to take a look at the Julianne and was happy to see that it came in a very practical all black sateen style (RM2025). The logo is less obvious and actually adds some character to the bag. The body of the bag is not structured but holds its shape well, and the fabric does feel and look nice. It is shiny but not over the top. I liked the fact the inside of the bag was a lovely lilac purple shade and it was not heavy. The handles and leather trim are shiny but understated patent leather. There is also an all leather version retailing at RM2,100. I really liked the Julianne in person, but for 2 things:- Continue Reading ►