Ok I know many of you are going "EWW!!!" right about now when you saw the title – admit it. But I hope you're reading this out of curiosity anyway 🙂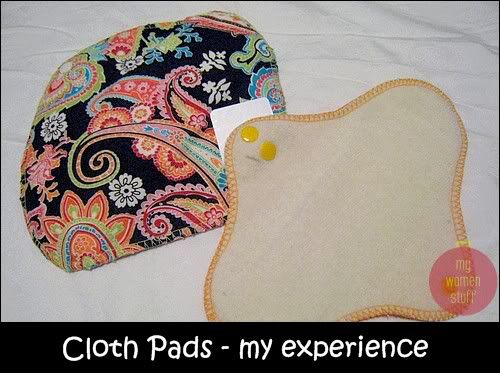 I used to be as well. Everytime I'd read about cloth pads I physically cringe and I thought only those who are seriously into organic or natural or environmentally friendly stuff would actually use cloth pads. The rest of us would still swear by the disposable sanitary pads – use and throw… use and throw… and they sit in the landfills and grow…
But some time last month I felt the urge to try something new and untried by me. What better than cloth pads! I had to try how they felt and whether it was going to be "EWW!!!!"
I headed straight to Tiny Tapir's store and promptly got lost at the mind boggling choices available! Fortunately, Li of Tiny Tapir was very helpful and a quick session at their new Ampang Park store saw me picking up the Moonbow Small Velour cloth pad (RM40) and Cyclez AIO Regular cloth pads (RM25). I intentionally went for bright colours – I don't like pinks so yeah – brighter the better!
I learnt some new terms:-
All in One – All in one cloth pads are one piece items like disposable pads that you snap into place and go.
2 Part Snap sets – A waterproof base and a top soaker. You change just the soaker without changing the bottom that stays on your underwear. It snaps together with buttons.
2 part insert sets – 2 part sets except the soaker is inserted into a slot instead of snapping on. More fiddly I find.
Because I'm new to cloth pads and because I found it hard to "trust" cloth pads fully for my whole cycle, I only bought and used cloth pads for the lighter days. I also got the all in ones because I wasn't sure how I'd like it yet.
I stuck to conventional disposable pads for my heavier days and overnight use. It was unintentional, but it also provided a much needed comparison between disposable sanitary pads and cloth pads in one short time!
Continue Reading