Update: Pattybelle.com is no longer in business.
Remember when I wrote about Yuan Handmade soaps? It seemed to generate some interest from people who wanted to try these organic herbal soaps which I found and I still find very good for me. You might be pleased to know that the Yuan herbal soaps are now also available online at Patty Belle as well as in health food stores. As I don't frequent health food stores ( 😛 ) online is the best way to go for me for now.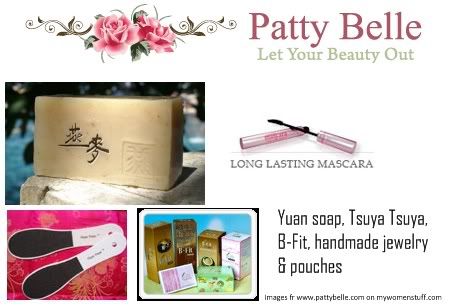 Patty Belle is an online store selling a variety of beauty and handmade products. I'm not too familiar with some of the products carried, except the Yuan organic soaps. I have seen brands like Tsuya-tsuya at some malls where I see promotions for mascara and feet treatment products. However, other brands like La Fontaine Collagen masks and B-fit slimming products have flown under my radar.
The selection of Yuan soaps at Patty Belle is quite extensive, where they carry most of the popular soaps, as well as the hair soap and laundry soap. I'm quite curious about the Liquorice Hair Soap so I'm going to buy that one of these days and try it and see how it fares, especially when it claims to reverse the balding process! Not that I'm balding… yet 😉 The soaps range between RM22.50 to RM29.50 which is a reasonable price.