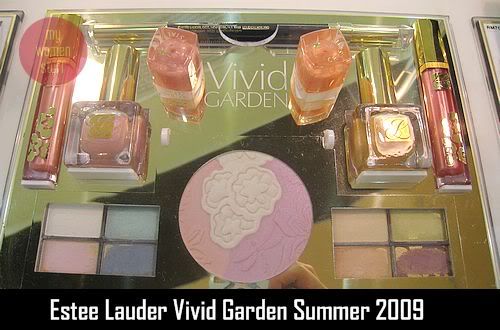 I've finally seen the Estee Lauder Vivid Garden collection and it is with regret that I had to pass on it on account of it being super sheer. 🙁
The whole collection is pretty to look at. That Vivid Garden Illuminating Powder (RM120) is quite a delight to the eyes. Swirled together you get a very light illuminating powder that goes on with white shimmer. Shimmer is very slight though so its no disco ball effect. The sales person told me I could also use each color separately. I didn't quite see the point because even the pink and purple swatched sheer. So sheer and light I couldn't get a picture. All that said, if you don't have a highlighter powder, this is pretty decent because you don't get high shimmer but a soft glow.
The 2 eyeshadow quads Jasmine Garden and Orchid Garden (RM140) were so sheer even the sales person agreed with me so. I was in fact on the point of giving up when I swatched the lipglosses and lipsticks and suddenly, Estee Lauder's forte in the lip department shone again.