… I got me one with a map of the city of Paris on it!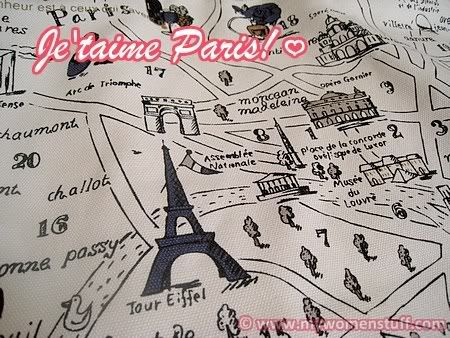 See the Eiffel Tower! See the Arc de Triomphe! See just how cheesey it all is when I tell you I'm called Paris B!
But no, my moniker was not the reason I got this – I do love Paris and I have been hankering so badly to go back its not funny. Maybe if I carry around a bag with a map of Paris on it and wish hard enough I might just find myself heading there soon? One can but hope…
This is my second Rootote after my first one I got the first time Tiny Tapir brought them in. These things are addictive! This one called "Capital" is in a 16oz sturdy cotton canvas which is different from my first Rootote which was polyester. Thus, this new one is more pliable and because its slightly more luxe, has a magnet closure which I find incredibly useful. The base and handles are smooth PVC. The handles feel a little shorter but it still slings comfortably. It was RM70.
While I was in Tiny Tapir, I also saw another Rootote in Tuta which is even more lux. It is laminated so it is waterproof and I love the metallic silver/gold touches on the handles and trim. It is seriously cute and I was so torn when I had to walk off without getting it. I'm telling myself I can only have one so perhaps I'll reserve that material for another time LOL… Now, will someone just go and buy it already so it doesn't mock me every time I check out the site?!