I decided to take a walk around some of the more popular brands yesterday to see how the Christmas collections were faring. Most brands' holiday collections are already available, but I felt a pull in my gut to check out brush sets for some reason. I knew that 2 brands were doing brush sets for the Holidays this year – MAC and Shu Uemura. MAC's collection is an annual affair but if I'm not mistaken, this is the first time I've seen Shu Uemura come out with a brush set for the holiday season.
MAC Cosmetics Adoring Carmine Brush Sets
First off, I dropped by MAC Cosmetics at MidValley Megamall. I am usually quite loathe to step into the store having had bad experiences before, but I got a surprise this time because the sales assistant who came over was not only polite and helpful, she did not have scary fantasy makeup on! I was very impressed and if I had service like this before, I might even be a MAC convert now
I was so stunned I failed to ask if I could take a picture of the Adoring Carmine brush sets so you have to make do with stock photos LOL…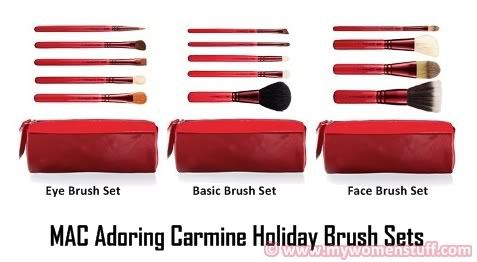 There are 3 brush sets available this year that come packaged in a barrel shaped pouch. I thought the pouch was nice and practical because you can throw in some eyeshadow or lipsticks and you are good to go. This is unlike previous years where it was clearly just a pouch for brushes.
The Adoring Carmine brush sets come with a gorgeous red handle and red ferrule. I love the shade of red used – Carmine I believe. Very eye catching. The 3 brush sets available are the Eye Brush Set, Basic Brush Set and Face Brush Set.
The Eye brush set contains 5 brushes for eye makeup. The Face Brush Set has 4 brushes for foundation and powder and the Basic brush set has brushes for eyes, face and lip.
Each set retails for RM220 which I thought was a bit of a bargain considering one brush usually costs about RM180 and up. That said, it must be borne in mind that the brushes in the limited edition brush sets are not quite up to the quality of the individual brushes.
When the sales assistant opened up brand new sets to show me the brushes, I noticed that one or two were already shedding. Also, I felt that the bristles of the limited edition brushes were not as soft. This might however, be remedied after washing the brushes, I can't quite tell. Thanks to the helpful sales assistant, I found out that the brushes in the set are full sized versions – we did side by side comparisons with the individual ones. The shorter handles are useful for traveling and for daily usage. I always like the short handled brushes – it makes it easier to use.
Continue Reading ►