Do you have something that you wouldn't necessarily call a favourite, yet find yourself reaching for it now and again, a little more often than you might expect? I'm sort of that way with the La Mer Reparative Skintint SPF30, which is La Mer's version of a tinted moisturiser-sunscreen thingy.
In fact, if you read La Mer's description of this product, they don't really talk about the "tint" of colour, calling it instead, a "healthy wash of colour" which I've learned, is marketing speak for "very sheer colour". So, when you have that in mind, you'd be less inclined to be disappointed when you find out that the product doesn't offer a lot of coverage.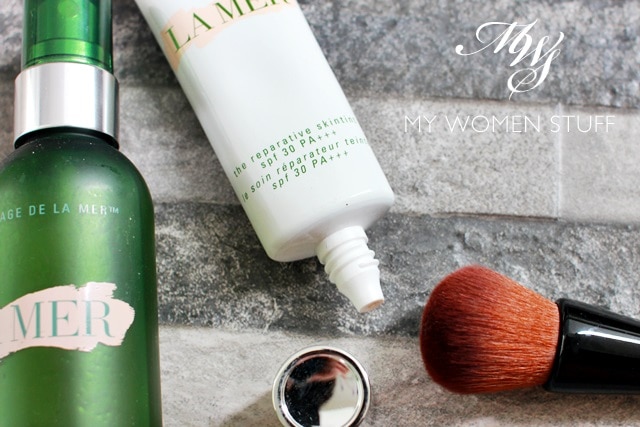 So why bother wearing a tinted product, if you aren't going to get any coverage on skin? Well, speaking personally, I do, a little more often than I realise. It will depend on what you really need the product to do. Are you concerned about reducing the appearance of redness and uneven skintone on your skin? Or would you prefer something that will cover up imperfections as well?
For the former, I find that soft tints or washes of colour do a pretty decent job. For the latter, go with a proper foundation. It also comes with being comfortable with your skin and realising that there are other ways you can actually wear a makeup base, without a) looking like you're wearing makeup and b) without having too much product on the skin. I"ll actually show you below how I do this 🙂