I was feeling a bit blah last week, and I've sort of worked out what it is (No, it's not that damned construction). It's beauty fatigue.  So, as much as I hate making announcements (because I always find myself going back on my word not long after) I'm just going to say that I've put myself on a beauty spending diet.
Not a no-buy nor a low-buy (I won't commit that much) but just a diet of sorts, so slim-and-selective-buying maybe? So what this means for me is more money to save (yay! Or maybe to spend on other things heh) and what this means for you is that I'll be working off the pile of material I own from yonks ago. This may also mean you may not get the latest and newest (unless I'm given access to them, which I'm not begging for – if it happens, it happens c'est la vie) but you still get beauty talk and I hope that means you don't all run away 🙂
Which brings me to my favourite day cream du jour – REN V-Cense™ Youth Vitality Day Cream. I'd used a version of night cream from REN powered by Frankincense many years ago, which I really liked and this is the new iteration in day cream form.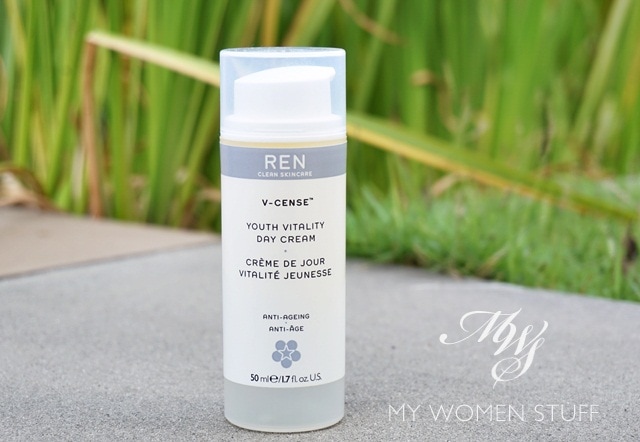 I like REN products in general. They've got a lovely clean, simple aesthetic and the concept is a good one. I have noticed though that they have changed their outlook over the years. Previously, they used to have these crazy long names of products and list their bio-active ingredients in the name and on the label. These days, they've abandoned that for a shorter, snappier naming process.
Which is probably a good thing because I'd have liked to ask them was sort of ingredient V-cense™ is. I've actually already used up half the bottle before I remembered that I hadn't told you about this!