A little while ago, I set a little "Mission: Impossible" task for readers who were interested in being guest reviewers for the new Maybelline Color Sensational lipsticks. Happily, I got some responses else it would have fallen on my face won't it? 😛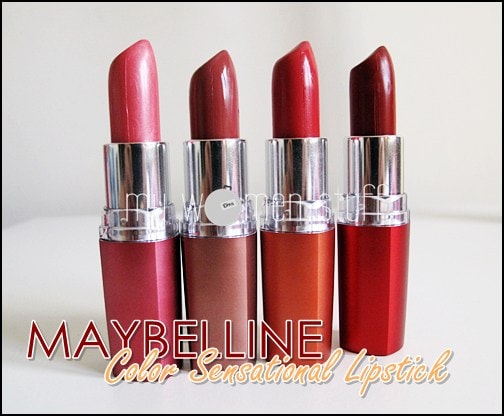 So here we have 4 lipsticks and 4 reviews. Problem was the winner of Summer Sunset was going overseas and could not fulfill her mission and no one else picked Summer Sunset! What's wrong girls? Don't be afraid of red lipstick! So Summer Sunset will be reviewed by yours truly who is only too happy to slick on the red 🙂
You will already have seen lots of reviews on these lipsticks on the net but do take another moment to see what some non beauty bloggers have to say about these (they did an excellent job!). Reader reviews in the raw and unedited 🙂
Maybelline Color Sensational Lipstick in Pink Bloom (by Kimberly)
Texture: The texture of this lipstick was very smooth. It was not drying, but because I have dry lips, I had to apply some lip balm as a base before applying Pink Bloom to make it look better.
Colour: Pink Bloom in the tube looked like quite a bright pink to me, with a smooth 'metallic' finish. I wouldn't usually have chosen this colour, mainly because I didn't think 'metallic' colours suit my skintone, but Pink Bloom was surprisingly lovely on me. The pink is actually nicely toned down with the metallic finish so it looked chic and sweet at the same time.
Another thing I noticed was the staying power of Pink Bloom. After many gulps of water from my bottle after I put it on in the morning, and coffee during tea time, the colour was still prominent on my lips. I only had to reapply after lunch, and the colour was actually still there at the time, only that I had to smooth it out as some of the colour had faded from parts of my lips.