Paperdoll Boutique has been closed in early 2011
As a kid, I used to play with these paper dolls, where you could "wear" dresses on them with these tabs you would fold down to hold them in place on the doll. Anyone remember those? You could even design your own dolly fashion if you were so inclined and I never was.
It was these paper dolls and the fashion possibilities that kindled Joanna's love for fashion and when she decided to open her own boutique, she knew what she wanted to call it – Paperdoll!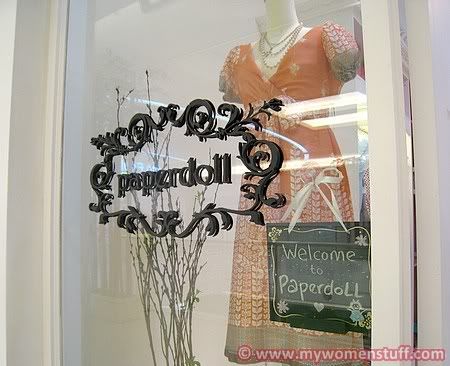 What is the Paperdoll Boutique?
Paperdoll boutique is located at the new Tropicana City Mall. In fact, Paperdoll had started much earlier in 2008 with the launch of Paperdoll online – the online boutique, before taking it to a proper brick and mortar store. And what a store it is! Have you seen anything more adorable than the Paperdoll store front? It made me think of a whimsical little town with springtime flowers and sipping coffee while sitting on the sidewalk minding my pooch… not that I own one 🙂 It would not look out of place on Main St. USA, or Europe and this whimsical eye catching design is carried into the store as well.
Walking into the Paperdoll store is like walking into a closet or a best friend's room. Dresses are hung neatly on racks designed to look like cupboards and a shelf and table holds accessories and tank tops. What makes the shop unique to me is the personal touches that Joanna brings to the decor – prints, photo frames, souvenirs and knick-knacks from her travels… it all makes the place feel much like stepping into someone's home. There is a special promotion in store for My Women Stuff readers so be sure to read on till the end. 😉