From not owning anything from Clarins, I have ended up owning 2 products from Clarins – the colour quench lip balm and the Colour Quartet eyeshadow quad. Ever since I saw Karen with her blue pink and silver eye using the Clarins So Sublime quartet, I have been smitten with it. It didn't help that that shade of navy blue was calling out my name repeatedly.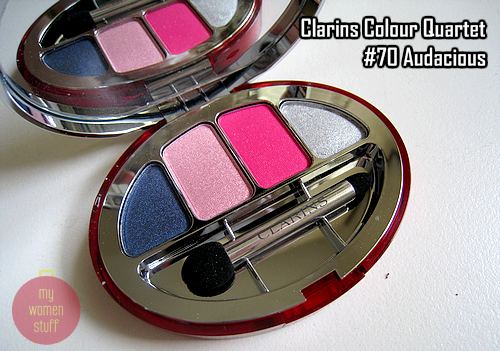 I came across a Clarins quad online called Audacious #70. I can't find it listed anywhere though the colours are identical to the So Sublime #80 quad. I realised that So Sublime was also known by other names in other countries e.g. So Glam, so I decided to take a chance on it.
Packaging wise my Clarins quad came in a typical red Clarins box and a red velveteen pouch that closes with a magnet. The case is translucent plastic on the bottom and silver on the top that attracts fingerprints like crazy. CSI would have no problems dusting this baby for prints thats for sure! 😛
The colours look almost exactly like Karen's So Sublime quad so I'm led to believe that it is a renaming of a similar palette.
Now that I had this brightly coloured eyeshadow palette in my hands, how on earth was I going to wear it?!
Continue Reading