Those of you who have been following my Instagram would have been waiting for this review that I teased you with last week hehe… I am as usual, late to the party since the Estee Lauder Pure Color Envy Shine lipsticks have been around for almost 2 months now. But as they say, better late than never! After all, it's a permanent item so there's no LE rush *whew!*
On a side note, I'm starting to move away from LE products. I'll expound on my theory in a separate post but am just throwing the idea out there because I've been so consistently disappointed lately, I'm planning to just stick with the tried and true permanent items with few exceptions. Now that's off my chest, let's talk lipstick!
Estee Lauder has a new lipstick range! After I had given it a good ol' rave on IG, I was made to realise that Asia gets a whole different range of Pure Color Envy Sculpting lipsticks! What's this obsession with segregating the world into Asia exclusive and non-Asia exclusives eh?
That aside, the one we get is the Pure Color Envy SHINE Sculpting Lipstick which is supposed to have a lighter, sheerer formula with a shine, as compared to the regular range available in the rest of the world. Not having seen the other one I will reserve comment, but I will tell you that I FREAKING LOVE THESE!
Ahem, yes I'll get a grip of myself now
Despite it being supposedly sheerer, I wouldn't pay too much heed to that. The colour I have is Blossom Bright 250 which is a lovely bright yet soft pink-berry that is opaque in one swipe. Yep, just one swipe. Let me demonstrate.
Estee Lauder Pure Color Envy Shine Sculpting Lipstick Blossom Bright 250 Left: 1 swipe Right: 3 swipes from tube
Can you tell the difference?
Nope, me neither. I love how the colour is pretty much opaque with just 1 swipe straight from the tube and it's a beautiful colour to boot! There is no tugging and the lightweight formula quite literally glides over lips leaving a beautiful pigmented coat of colour with some shine (but not gaudy shimmer or glitter). It hugs your lips without once feeling drying or heavy or uncomfortable and I must say, I was impressed the moment it touched my lips.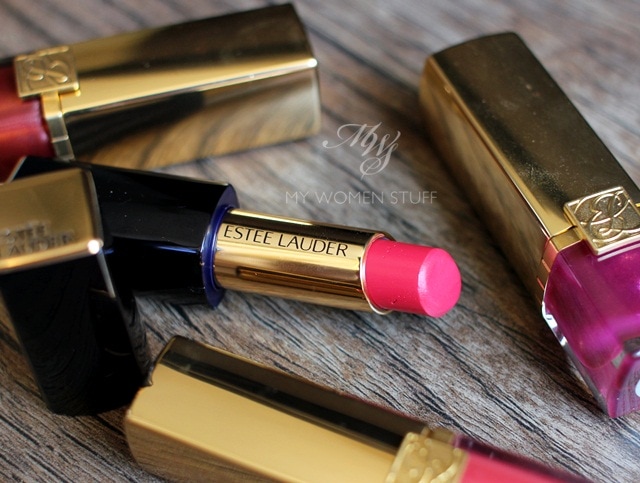 I did like the previous versions of Pure Color lipsticks which you see in the picture but I know people often find the texture heavy and there is always that signature Fig scent that can be off-putting. I don't mind it on some days but I mind terribly on other days so I don't get a lot of wear from them.
So imagine how happy I was when I took the Pure Color Envy Shine lipstick up close to my nose, took a healthy sniff (it's ok, I don't share my lipsticks so my cooties are my own) and discovered NO SCENT! Not a hint of perfume or fig or berry or rose. Hallelujah! For this reason alone, combined with the gorgeous formula, I'm calling a buy on this beauty!
And that's even before I wax lyrical about the packaging. The new Pure Color Envy Shine lipsticks come in a terribly sleek and hefty navy blue case with a gold coloured tip at the cap. There is absolutely nothing on the body that says what brand it is. The only hint you get is the name embossed in the top of the cap.
The cap closes with a magnet which is terribly modern, but I was just so impressed with the sleek silhouette and luxe case that is a significant shift away from the previous gaudy gold and plastic packaging. I love it. Have I said that already?
When I mentioned the lovely texture of the lipstick and how smitten I was with it, a friend on IG noted that Estee Lauder owns Tom Ford, which is lauded for their lipsticks and that had me thinking that maybe, just maybe, some of the technology and influence had rubbed off on the mother brand. For sure, this new Pure Color Envy Shine lipstick range is stunning and I'm already plotting to get more. I haven't been this excited about an Estee Lauder lipstick in years. Or ever
So after all that rather incoherent raving and flapping my hands about, here's what Blossom Bright looks like when I wear it.
Blossom Bright is a very lovely skintone brightening colour that isn't as in your face as a red lipstick yet is bright enough to draw attention. I've just applied 1 layer straight from the bullet and I just love how it goes on and how it looks and how well it wears. I have no problem with it fading and I wear it for hours from the morning till lunchtime when I will usually wipe everything off and start over. So that's a good 5 hours at least.
I can't think of anything bad to say about this lipstick so if you find a colour you like, get it. I can almost promise you, you won't regret it… and you might even want another, like I do
In a nutshell

The Estee Lauder Pure Color Envy Shine Sculpting lipstick is a new range of lipsticks that is exclusive to Asia. Outside of Asia, it is the non-shine version. The texture is lovely being at once lightweight yet creamy and not drying yet pigmented and opaque in one swipe. I do not find this one sheer at all, which is good news for me but bad news for those who prefer sheer lip colours. There is a shine which is very flattering but it isn't over the top so it works well in conservative working environments. The colour I have, Blossom Bright 250, is a very flattering colour and one I feel will flatter many, and especially will attract those who prefer brighter lip colours. It isn't too bright and is just right. The packaging is sleek and the cap closes with a magnet and I find it very elegant and luxurious. I've nothing bad to say, only good things so I'll stop here. Get one!

Pros: No scent, Pigmented, Opaque in 1 swipe, Soft shine on lips, Lightweight yet creamy texture, Not drying, Longlasting for at least 5 hours

Cons: None

Who will like this: Anyone who likes pigmented, opaque, creamy lip colours with some shine, Anyone who likes unscented lipsticks
I might even say that these lipsticks remind me of the Rouge Dior and feels like a mash up between Rouge Dior and Dior Addict. Next to Tom Ford regular lipsticks, these aren't as hard but feel impressively comfortable so I'd even pick this because TF lipsticks have a scent haha! At this moment, you could say that these can do no wrong so I'll pick this as my favourite lipstick du jour because it hits all the right spots for me. My next problem is getting more. Yes, I'm obsessive that way
Have you tried the Pure Color Envy Shine lipsticks and have a favourite colour? If you're outside of Asia, have you tried the Pure Color Envy lipsticks and do you like them?
I can't compare the two formulas as I don't have access to the non-shine version, but I was told those have a scent so I'm already feeling a bit iffy about them. That said, I'm not going to prejudge, so if I have access, I'll get one to compare but for now, if you can get the Pure Color Envy Shine lipsticks, do. I love them and if you have a favourite colour, let me know – I might like it too!
Paris B
Estee Lauder Pure Color Envy Shine Lipsticks come in 16 shades locally Price: RM98 Availability: Estee Lauder counters