Don't we love discounts?
There are some products I'd never buy if they did not go on discount. The YSL Touche Eclat concealer highlighter pen is one of them. Funny how I cannot justify paying RM133 for the pen but I'll plonk down RM79.80! Perceptions.
Anyway, thanks to a tip from reader Ling, I dropped by Robinsons The Gardens to check out the sale at the Yves St. Laurent counter. YSL is a brand I tend to overlook because of the perceived luxury image and the "old lady" image.
Still, because things were on sale, I decided to pick up a couple of items I'd been wanting to try. Here are some quick thoughts in case you were thinking of getting something yourself.
YSL Touche Eclat highlighter pen – Usual RM133 / Sale RM79.80
They only had the Touche Eclat left in #1. The lovely sales person told me it might be a little light and pink which is in fact, true on all counts. #2 has more yellow tones so may be more universally acceptable. However, I decided to go with #1 anyway since that was all that was left! I've been using it since I bought it and its not bad. A full review will come soon enough.
YSL Golden Gloss #4 – Usual RM79 / Sale RM51
I'm not a gloss girl but I couldn't resist the YSL Golden Gloss #4 which is a lovely rose shade with lots of golden shimmer. The scent is strong and fruity so those with sensitive noses might have to be wary. However, its not goopy on my lips and not super thick, yet lasts quite a while even with eating and drinking. Once the colour wears off, the golden shimmer remains so to prolong the effect, slick some lip balm over it and have shiny shimmery lips again!
YSL Semi Loose Powder #1 – Usual RM188/ Sale RM100.80
I'd been wanting to try this semi loose powder for a while. I never got round to it not because of price but because there was always better things to try. At a sale, there was no reason not to get it. I got #1 which is a very light translucent shade. #2 was too yellow for me. I liked the "cheese grater effect" that allows you to grate as much loose powder as you'd like to use while leaving the rest solid. Perfect for travel or toting around without spillage!
I'll revisit these products again at some point in the future for some more in depth reviews. For now, if you haven't yet checked out the sale or promotion at the YSL counter at Robinsons The Gardens, better hurry. Colours and product selection is very limited. I wanted to try the Rouge Volupte but all the colours on promotion prices were gone. The sales assistant did give me a sample pack to try though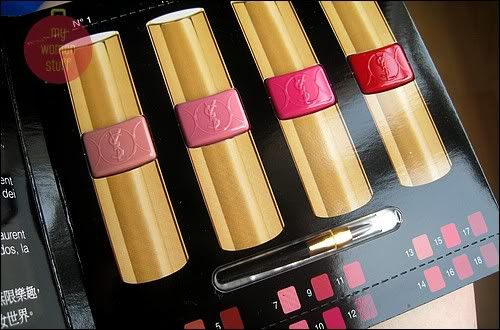 And I got a RM10 voucher for every RM100 spent so all in all, it wasn't too bad a haul eh? The vouchers can be used in the Beauty Hall so I'm wondering if the new Chanel Joues Contraste Blush in Fresque (RM140) will be a good thing to get. I swatched it and its light but there are some really pretty nuances to it I haven't seen in other blushes. Hmm…
Did anything catch your eye or did you too haul a little at the sale? I'm told there maybe a sale too at Metrojaya MidValley in time but I'll confirm when I know for sure. Do share your spoils if you hauled!!
Stay beautiful,
Paris B