Have you ever had the problem when your concealer or foundation feels too thick? Or when you apply it, it feels and looks a little cakey?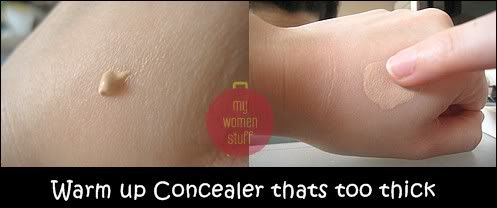 I have that problem sometimes with the Lancome Effacernes concealer and Ayu asked what I meant when I said that I'd warm it up with my fingers before I apply.
How I warm up my concealer is like this:-
Squeeze a dab of concealer on the back of my left hand
Use my fingers of my right hand and rub the concealer back and forth. You'll feel it have more slip due to the warmth of your fingers
Dab to apply
This thins out the concealer so you don't end up putting cream that's too thick on your face which can result it looking cakey and fake and cause it to settle into fine lines.

This tip works with most cream based concealers in a pan e.g. Boi-Ing or the Revlon Age-Defying cream concealer; stick concealer or thick foundation too. I do the same thing whenever I encounter thick creamy texture. My concealers and foundation go a much longer way too 😉
Do you do the same thing? Does it work for you? Do you have another trick to share for thinning out thick concealer or foundation?
Stay beautiful,
Paris B