I'd read many good reviews about the Clarins Colour Quench Lip Balm (link) but Clarins as a brand is always overlooked by me. No longer! I got me a Clarins Colour Quench lip balm to see what the hype is all about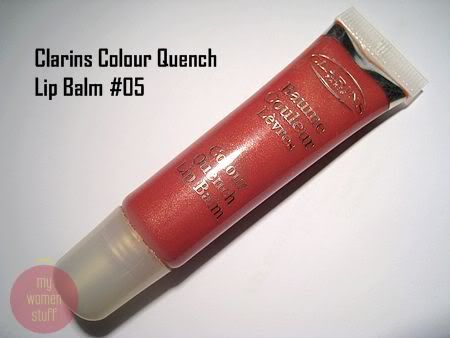 The colour I got is #05 (Cherry/Strawberry) which is a colour presently discontinued I think because I don't see it on their website. Why I still choose to review it is not for the colour but for its texture, as this lip balm is still part of the Clarins line. It so happens however that I love the colour in 05!
Clarins calls this a lip balm. On the website however, they refer to it as a lipgloss. A little confusing yes? But I call this a lipgloss because even for a tinted lipbalm, the pigment is amazing! However unlike other lip glosses, this one is not sticky, and does not dry out your lips.

The Clarins Colour Quench lip balm comes in a tube not unlike Lancome Juicy Tubes lip glosses. I'm not a fan of Juicy Tubes because they are thick and goopy and I dislike thick and goopy on lips.
The applicator on the Clarins lip balm is a slanted applicator which makes it easy for you to apply it straight on your lips. I don't like doing that because it means I lose control over the application. Therefore, I usually use my fingers which can be messy but hey, thats what tissue papers are for!
The nice thing about Clarins Colour Quench lip balms is that it is seriously pigmented. Just look at these swatches.
The colour is strong which is nice. It is also not sticky which again is nice and it is also moisturizing or rather, not drying. This is overall, a very "nice" lipbalm/lipgloss/lip colour.
There is however, a rather strong sweet fragrance to the gloss. I'd prefer if there was no fragrance at all, but I guess you can't win them all. It does not last (thank goodness!) but its there if you are fussy.
As a lip balm, it performs fairly well. It keeps your lips moist and flake-free and adds colour to boot. If your lips are peeling and dry, then you might want to exfoliate a little before applying this lip balm so you don't accentuate the flakiness. Once exfoliated, my lips remain soft while using the this lipbalm. Otherwise, unlike many lip glosses I have tried, this one keeps my lips soft.
#05 is known as Cherry/Strawberry depending on which part of the world you are in. The colour is a red-pink which is rather bold for a lip gloss. It is certainly not as sheer as lipglosses tend to be but I like red lips so I liked this one tremendously! I liked it even more when I took it on holiday with me because it kept my lips moisturized and yet added a touch of colour so I did not have to bother with separate tubes of balm, gloss and lipstick! Travel light yo!
A 15ml tube of Clarins Colour Quench Lip Balm retails for RM58 at Clarins counters. I purchased mine online at Strawberrynet for RM105 for a pack of 2 with the usual loyalty discounts so I ended up paying much less. I'm now tempted to get more… and I know I shouldn't
Pros: Keeps lips moisturized, Pigmented colour, Fair price for a lip gloss

Cons: Pricey for a lipbalm

Paris B's [rating:4/5]