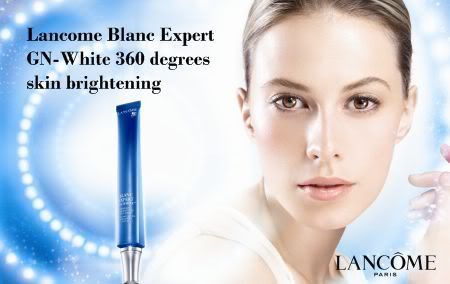 Hands up who has heard of the by now iconic Lancome Blanc Expert UV Perfect SPF50? That was one of the first items in the Blanc Expert stables and it has remained ever since. I personally have not tried it though because the price was steep
But it has remained a skincare icon for a long time.
Lancome has taken things up a notch with their new Blanc Expert GN-White formula which is a reformulation of the Blanc Expert whitening skincare line that targets melanin under your skin – the main causes of brown spots – and thus more effective skin brightening. I'm not sure if it is available outside of Asia but this line is targetted at the Asian market.
I've used whitening skincare before (not Lancome) and while I will attest to my skintone evening itself out and maybe some lightening of pigment spots and freckles nothing can eradicate them and nothing short of skin bleaching will turn you from dark to light so do be wary of skincare that can promise you this!
All that said, with the launch of the new improved Lancome Blanc Expert GN-White line, we have something nice for you readers – free samples of the new Blanc Expert GN White line! All you have to do is print out the voucher below, fill up your details and go to any one of the 4 Lancome counters listed on the voucher (They are all in the Klang Valley – sorry for out of towners!)

Please click to enlarge and print
The samples are available from 9 March 2009 (Monday) and there are 100 sample packs available to be distributed between the 4 Lancome counters at Isetan KLCC, Metrojaya MidValley Megamall, Jusco 1 Utama and Parkson Pavilion Kuala Lumpur. If response is good, there might be more packs allocated
How fortuitous that 9 March is a holiday eh girls?
Now go… hit those counters and tell me how you like the products! It might even spur me to try them
Stay beautiful,
Paris B