The smokey eye trend that started towards the end of the 1990s doesn't seem to be waning but in fact seems to be picking up pace. Almost every makeup brand has a palette that is "perfect for a smokey eye". I already have two! One by Guerlain which I will be reviewing soon (I love it!) and another by Stila which is the Stila Smokey Eye Quad in Original.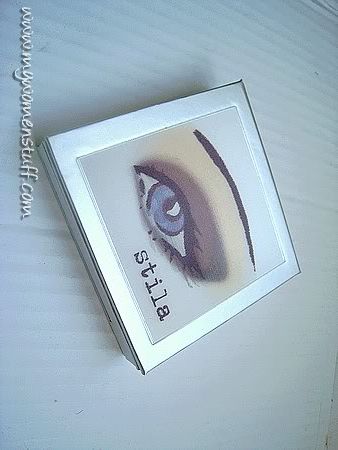 I said before that I really like Stila eyeshadows but I did gripe a little about how its hard to find a truly dark colour in the single eyeshadows. Well, the Smokey Eye Quad takes care of that! The quad comes with 4 eyeshadows that are perfect for creating a smokey eye.
The packaging of the Smokey Eye Quad is sturdy although I found it a little thick for travel. It is cardboard but sturdy cardboard, and the 4 eyeshadow pans in it are slightly smaller than the normal sized single eyeshadows. Still, you do get a lot of product. The eye on the cover is slightly holographic, opening or closing depending on how you angle it.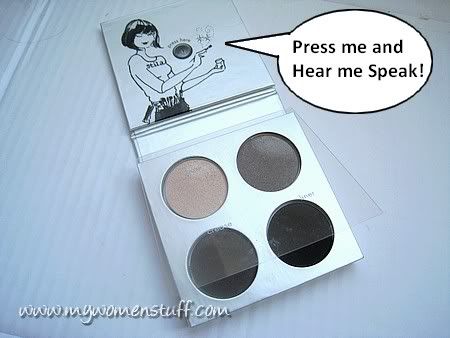 On a slightly gimmicky front, the Stila Smokey Eye quad talks you through how to apply your eye makeup to create the smokey eye look. Press the button on the cover and a tinny voice walks you though how to apply the eyeshadow. Unfortunately, it isn't very loud and it makes references to Stila brushes which I don't have so I was a little confused. Fret not however, because the same instructions are repeated in the leaflet included in the box! There are pictures of the Stila brushes in question and you can duplicate it with your own similar looking brushes if you don't have them.
The Stila Smokey Eye Quad comes in 3 colour schemes – Original, Greens and Bronzes. This simply tells you that a Smokey Eye does not have to be black but can be created using any colour scheme you wish. In fact, I'm surprised there is no purple quad because purple is the other favourite smokey eye colour I have seen created.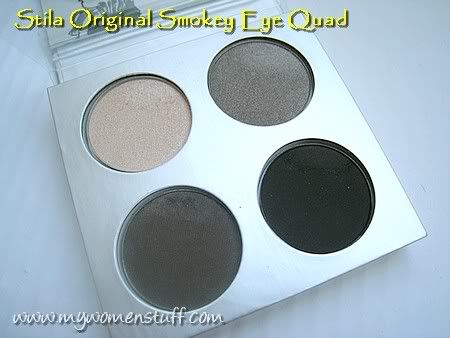 The colours in the Original Smokey Eye quad are – Champagne (shimmer), Slate (Grey-taupe with shimmer), Kettle (Dark Grey matte) and Ebony (matte black). I find the texture of these Stila eyeshadows a little different from the single eyeshadows. The texture is harder which means it is less easy to pick up the colour.
However, I will not be docking points for this because it actually makes it easier to create a smokey eye! I'll explain. Because it is harder, the colour you pick up with your fingers or brush is less. So, you have a lower risk of spilling it down your cheek or having colour dropping everywhere. Also, I am not very good with a smokey eye, so I find it easier applying sheerer colour then building it up with layering. This way, I don't end up with too dramatic a look if I'm not up to it, and I can create a more dramatic look, if I feel like it.
I have to confess that I did not quite follow the instructions on the leaflet and the talking voice. I simply applied the colours the way I would usually apply to create my own look and it works well. Here is how the Stila Smokey Eye quad looks when applied for a less dramatic look or for a daytime smokey look (yes, I get away with it at work! 😉 )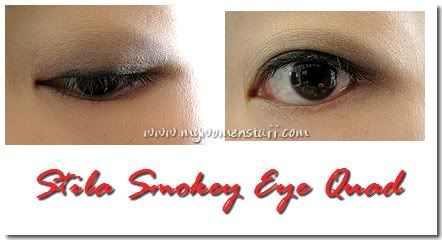 I'm not very good at this LOL… It somehow looks better in real life than it does photographed but there you go! The eyeshadow is done using all the colours of the Stila Smokey Eye Quad in the following manner:-
Champagne all over as base from lashline to brow
Silver-taupe from lashline to crease
Dark Grey on outer edges of the eye and blended into crease
Black on lashline and on outer edges
Tightlined and lined with Guerlain Kohl Pencil
Mascara – Guerlain Le 2 Mascara
You might be wondering why I don't line the bottom lash as most people do? Well, I just don't because my eye has a wide expense of skin at the edge. When I line the bottom lashline, I find that it makes my eyes look smaller than when I don't. So, I don't for vanity purposes 😉
The Stila Smokey Eye Quad retails for RM190 at all Stila counters in Malaysia or US$40 in the USA. I like this quad and I can see myself using it quite often since I'm still in my grey eyeshadow phase. I would probably team up just 2 or 3 colours next time for a darker or lighter look as I like it. Half the fun is in experimenting! I wore this today and got complimented – yay!
Pros: Nice smokey eye colours, Colours can be layered for intensity, Flexible
Cons: A little pricey, packaging is a little thick
[rating:4/5]