Or how to empty your wallet when faced with a site outage 😛
First of all, my apologies to everyone who tried to access my site and found it no longer existed. There was a problem with the server which my host worked hard to rectify and I think its all alright now. Some comments earlier may have disappeared (and a post or two did too) so I duly apologise. That was due to a server migration and I can't retrieve them. So, thank you for your patience and to those who dropped me emails to find out what was happening, thank you too for your concern!
With my site down the whole of yesterday, I was left to my devices picking up on work slack but hey, there is only so much boring work to do before I ended up surfing around. Being itchy fingered I ended up picking these up online:-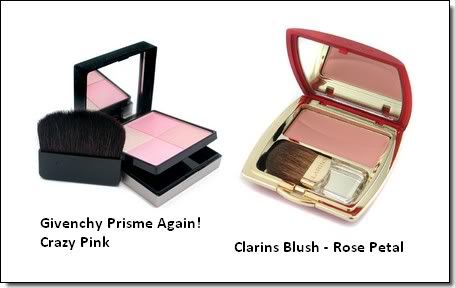 They are Givenchy Prisme Again! blush/highlighter in Crazy Pink (US$25) and Clarins blush in Rose Petal (US$15) both picked up at 50% off from StrawberryNET.com
where the offers are on-going for a limited time. Both are brands I've never tried nor ever thought of trying so I'll be quite interested to see how they fare.
At lunch time, I was out at the OE Jewellery store and was sorely tempted by a lovely delicate pendant. To my surprise the price was within affordable range but I didn't want to whip out my credit card just yet, because I'm still thinking about it. I also saw these rings:-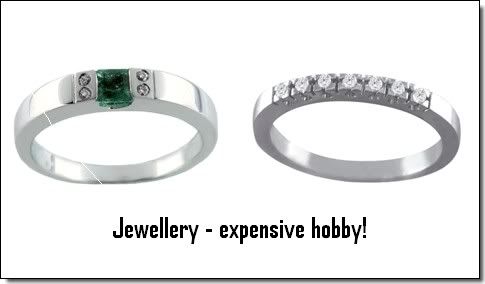 Approximations anyway. They were emeralds and diamonds set in a white gold band and I loved how they winked and sparkled at me on my finger. I love green so emeralds were a natural choice even if its a May birthstone and I'm not born in May. Was it a sign that the rings fit like a glove? 😉 I'm not really one for jewellery but these really grabbed me.
However, I found myself gasping for breath at the quoted price so I resignedly put the rings back after daydreaming a little 😉 I may go back for the pendant though since its quite affordable. It'll make a good birthday present to me 😀