Every now and again, you come across something cheap that works great and you end up wondering why you ever spent any money on high end products when low end ones work just as well!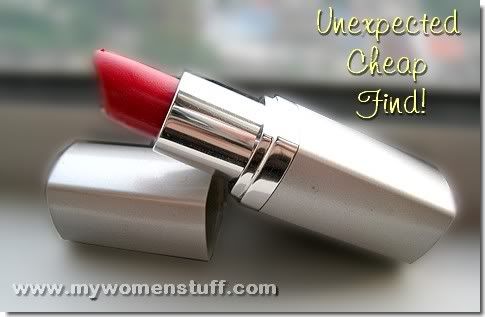 My recent revelation is the Maybelline Watershine lipstick. Retailing at something like a mere RM18.90 a lippie, this lipstick is a perfect dupe of high end glossy sheer lipsticks, like Clinique Buttershine lipsticks which retails for RM65. You can buy 2.7 Maybelline Watershine lipsticks with one Buttershine!
The Maybelline Watershine lipstick is very smooth and does a good job of moisturising my lips or at the least doesn't dry it out. Furthermore, it is glossy and sheer yet imparting just enough colour on the lips and best of all, has no discernable fragrance.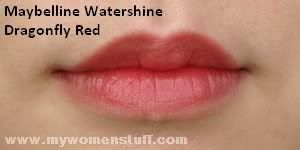 I have been wearing Dragonfly Red, which is a bright bright red in the tube. Just looking at it, you'd think its a lipstick that can only see the light of day for night events, paradoxical as it sounds. However, worn on the lips it is a sheer glossy warm red that I can pull off for everyday use at the office. I like it in particular for the fact that it brightens up my whole face especially when I'm not feeling up to putting on lots of colour on the rest of my face. I am pleasantly surprised at finding something so cheap that works so well!
The one little down side is that because it is so sheer and so glossy the colour wears off quite quickly. However, all lip colours wear off by the morning for me after my morning coffee so I always end up reapplying my lipsticks before and then again after lunch. I wouldn't call this a down side at all. Besides, if lipsticks lasted for ever, where would we find an excuse to get another?! 😉
If you go to the pharmacy and look at Maybelline's recommendations for lip colours, you'll see that Maybelline recommends Dragonfly Red for darker skin tones. Scrap that! I'm as fair as they come and I love this colour – it isn't too dark or too red but is just nice! Go out and get one now! Its only RM18.90 and goes on sale often! In fact, its on sale right this minute!
Pros: Cheap, Sheer, Glossy, Not Drying

Cons: Doesn't last that long
[rating:4.5/5]